If you've been having a hard time matching a wedding band with your unique engagement ring, you're not alone! It's an important decision to get right, since while you might only wear your dress for one day, you may be wearing your wedding band for the rest of your life…
And we're happy to lend a helping hand!
Here are a few of our pointers for finding a wedding band that matches your engagement ring perfectly!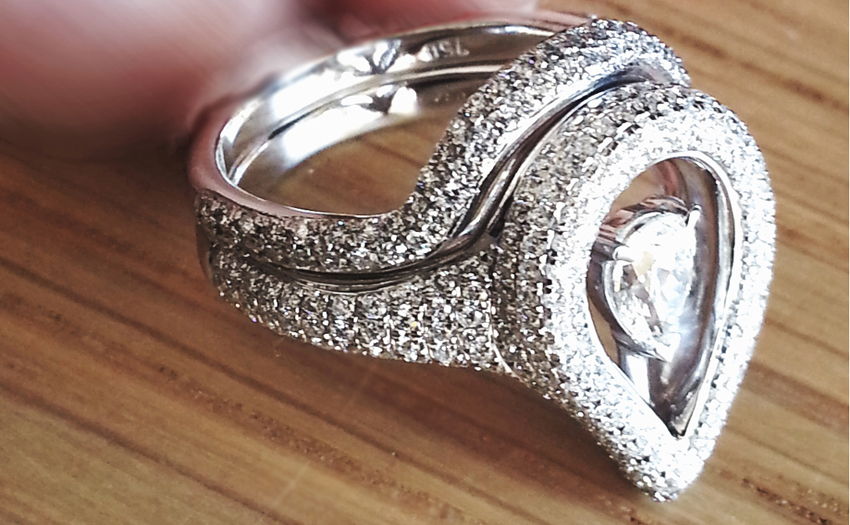 Mind the  gap!
Commonly, the frustration we experience when attempting to pair an engagement ring with a wedding band is caused as the centre stone/s push against the band, causing them to sit adjar. But don't fret,  this frustration can be easily overcome! There are several options for avoiding a gap between your engagement ring and band. Sometimes, the center stone can be slightly raised to allow a band to fit comfortably underneath. Alternatively, the band can be  created to follow the shape of the engagement ring. While this option can make your engagement ring and band look larger, you will need to consider whether you prefer to wear both rings together, as a shaped band won't look quite the same when worn on its own.
Sophisticated and practical!
If you are looking for a sleek, sophisticated look, consider a simple band with clean lines. While being timelessly modern, a minimal design is also highly practical!
At Bilingual, we love to think outside the box when it comes to wedding rings – and all jewellery design, really! We have a lot of fun coming up with unique and striking designs, like this engagement and wedder set (below). This Art Deco inspired duo are set in platinum and the number of diamonds and their placement is symbolic of different elements in the couple's relationship.
Kristin had been wearing our Act Deux ring for seven years, which she had bought together with her partner. She loved it so much that when they became engaged, she had it turned into a wedding ring! Her engagement ring was also custom made to match her Act Deux wedding ring (below). Both are platinum, featuring princess-cut diamonds and geometric cut-outs.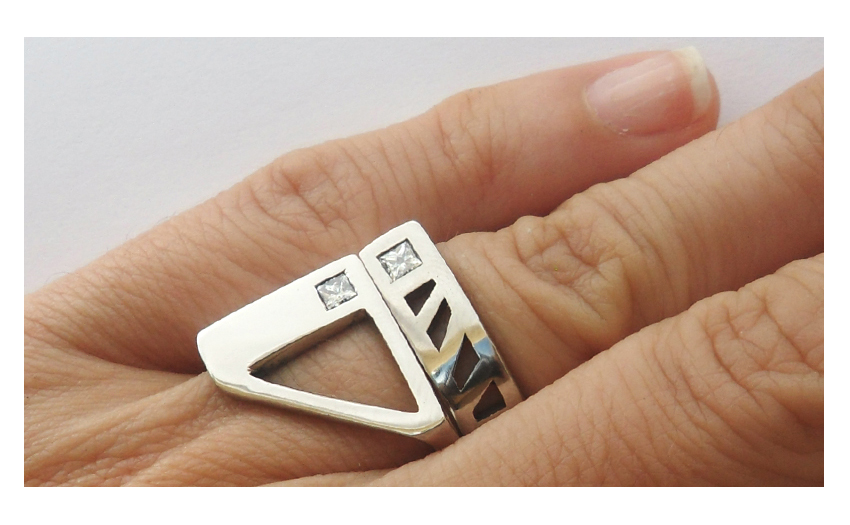 Harmony
While you may not always want to wear your wedding band and engagement ring together, they should still strike a harmony as a duet.  Balance and scale are particularly important – especially that the band doesn't overpower the engagement ring.
Due to its colouring, rose gold is a very subtle choice for most skin tones. Consider a rose gold band to allow your engagement ring or feature stones to stand out without competition.
Get some inspiration and have a browse through our custom wedding and engagement designs! Or think about whether one of our collection pieces might suit you.
We'd love to chat about your ideas and help you find a perfect wedding set. Book a free consultation today!