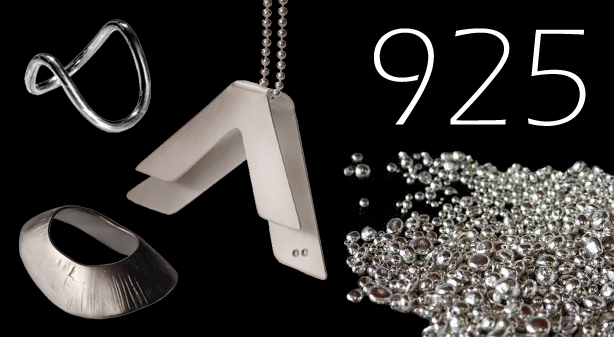 Silver is a "precious" metal not only because of its beauty but also because of its unique properties. Silver is the most reflective of all metals and also has the highest thermal and electrical conductivity of all metals.
History of Silver
No one knows when silver was first used, but silver remains have been found as earlier as 4000 B.C. by archaeologists. In the 1300s, King Edward I ordered that all silver materials must meet a Sterling Silver standard, which is 92.5% pure silver (typically, the percentage that is not silver is either nickel or copper). This is why we see sterling silver jewellery marked with a 925 stamp today.
Silver's Many Uses
Silver has also been considered a metal of unusual strengths and uses. It is believed that wearing silver on the body helps to accumulate more energy and re-vitalize the body. In Eastern countries, it is often used to help circulate blood flow and alleviate pain caused from arthritis. Furthermore, many wise philosophers and religious leaders would engrave prayers on silver stones or even silver plates to deliver messages to "other worlds." Silver also tends to shine more than any other metal and so it is one of the most popular metals for both ready to wear custom rings and designer rings. Silver is also a fantastic metal to mix with other metals including gemstones and pearls. Silver has natural bactericidal properties that make it an excellent choice for medicinal purposes.
Sterling Silver Today
Sterling Silver is a popular choice for jewellery and designer rings because it is one of the only metals that is malleable enough to create a thin sheets but also sturdy enough to create a strong wire. It is also the most reflective and whitest of all the metals.
When looking for a designer ring or a custom ring, tarnish-resistant silver is a wonderful metal to choose because of its diversity as a jewellery piece. Not only is silver more affordable than gold, it is also a delightful white/gray sparkly colour that fits with almost any kind of outfit you might own.
Sterling silver has continued to evolve into a modern metal with the introduction of Argentium Sterling silver (AGS). The main difference is that instead of the traditional mix (92.5% silver + 7.5% copper), AGS replaces some of the copper content with geranium. This means it has a unique tarnish resistant quality which makes it a superior sterling silver.
At Bilingual, we only use this superior tarnish-resistant Argentium Sterling Silver. So whether you are looking for a designer ring or a custom designed ring, we can cater for all occasions and budgets. Take your image to the next level with beautiful, inspired jewellery.